Historic Watermills of North America: A Visual Preservation (Hardcover)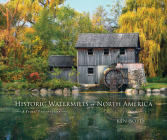 Description
---
112 full-color artistic photographs of watermills still standing on the North American landscape
 
The scenic beauty of the watermill is undeniable. The iconic waterwheel has inspired romantics for generations with their warmth and charm. Watermills were once ubiquitous landmarks along brooks, creeks, and rivers across North America. Today, only a scattering of the old watermills grace the countryside, but through these mills, and the turning of their wheels and the whirling of their stones, a small but spectacular part of history lives on.
 
Through stunningly beautiful images, Historic Watermills of North America: A Visual Preservation presents 112 watermills still standing on the North American landscape. With idealized full-color photographs, Ken Boyd nostalgically hearkens back to a time after European settlement when these structures were the very heart of the communities whose livelihoods they made possible. These mills turned the power of flowing water into mechanical energy to grind corn and wheat into meal and flour, saw timber, loom wool and cotton cloth, and more for the benefit of their operators and communities.
 
At one time vital to their surrounding regions, most of these surviving mills are in rural areas that have been passed over by modern development. Their designs are as individual as their makers, and their settings are as varied as the landscape. Some have been converted into homes or museums or are part of local tourist attractions. Others have been abandoned but give witness to the significance of their heydays, and others are still in use, doing the same work they have done for generations.
 
Boyd's beautifully rendered photographs preserve these extant structures and represent a variety of watermills across the United States and Canada. Each mill photograph is accompanied by a description providing the name of the mill, its location, date of construction, and brief comments highlighting its most noteworthy features. Additional photographs and commentary in the afterword explore the inner workings of watermills.
 
About the Author
---
Ken Boyd is a photographer and writer who has taught photography for the community at the University of Alabama at Birmingham and Samford University since 1985. He is author of The Art of the Locomotive and Historic North American Locomotives: An Illustrated Journey. A retired assistant to the chief environmental and research officer at the Southern Company, Ken and his wife, Dori, live in Hoover, Alabama.
Praise For…
---
"The text in this book reminds us of the historical importance of watermills in America's earliest communities, a significance that been largely forgotten today. But here Boyd does more than write about the central role watermills had in the founding of America and then offer up photographs of old, oft-forgotten buildings.
 
In his photographs, as he's done previously in his books about locomotives, Boyd invents a new way of looking at old forms. Here Boyd manipulates the images of watermills into pristine historical monuments. These photographs record the original watermills and their surroundings, but in Boyd's rendering of them he reveals something new and sometimes almost mystical about these once imposing and important structures.  Boyd's book gives us a history of watermills and also, something beyond. Historical Watermills of North America is a visual delight that runs deeper than the presentation of beautiful photographs."
—Carl Schinasi, Visual Artist and Retired Professor of English
 

"WOW!!! This book represents a major labor of love! The photography is excellent, bringing the viewer into each and every image. Boyd has done a terrific job of helping visually preserve these magnificent structures that were so important in their day. I look forward to having my copy in my collection of important photography books.
—Chip Cooper, award-winning photographer and coauthor of Campesinos: Inside the Soul of Cuba
 

"Ken Boyd's recent book Historic Watermills of North America is a scholarly and visual treasure. As I read the book and looked at each photograph I thought of a quote from the great photographer Minor White: 'Do not just photograph things for what they are, photograph for what else they are.' The mills are photographed showing the life and activity and importance of water. Ken Boyd's mastery of light and environmental perspectives seem beyond human accomplishment. This is not merely a historical account, the book is a life account of the reverence of work, water and structures of beauty.

Ken Boyd's photographs are evidence to his mastery of all aspects of photography, using his technique in service to dignify his subject. In his photographs we view the placement of these mills within the environment and the radiant light enlivens not only what we know of the importance of the mills, we are deeply touched with emotions to preserve such beauty and history. I am thankful to have been touched by this work and to learn how the water and mills have worked sustainably built within the respect for water. Water provides energy and is returned to the rivers clean and pure. Ken Boyd's book is a treasure that allows us to advocate for beauty and significant preservation of this way of life.

I thank Ken Boyd for the years of patience and deliberate work to bring this account to hold and know."
—Karen Graffeo, professor of art, University of Montevallo